Our keyboards are removable and optional as all our displays feature touch screen capability.
Our standard spill-resistant keyboard features the heavy-duty construction needed to withstand continuous in-vehicle use. The keyboard is separate from the display allowing installation versatility and easy access by either vehicle occupant.
Optional rugged-duty keyboards feature a watertight design with industrial silicone rubber keypads as well as robust ABS polycarbonate cases. The mini-footprint keyboard is ideal for close-quarter installations.
All keyboards feature extra large letters and adjustable backlighting to provide superior day and night visibility. An integrated glide pad or similar pointing device is included in all models.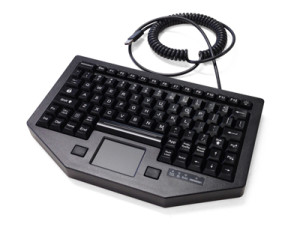 Keyboards for Mobile Computing